A reader contacted me this week. "My major kitchen appliance needs replacing. What is the best way to get the best deal and earn the most miles when shopping for a replacement?"  Short answer: Use Google Shopping and Cashbackmonitor.com.
We'll explore this in 2 posts.  Post 1 walks through how to locate the least-expensive merchant and best shopping portal through which we will purchase the appliance. Post 2 will show how to complete the purchase transaction using the most lucrative payment option.
Two aspects are important when shopping for high-ticket items. Price is the most important.  However, when combining best price with  maximum mileage earning  you'll come out significantly ahead compared to shopping based on price alone.  Combining  Google Shopping with Cashbackmonitor.com will result in finding the product you want at the lowest cost and highest mileage earning rates.
Let's walk through the process step-by-step.
"Google" Google Shopping to bring up the Google Shopping website. In this case, the reader needs to replace a member of a matching GE Monogram Set, so he searches for GE Monogram within Google Shopping.
Locate and click on the model number you want to purchase from within the list of GE refrigerators found by the Google Shopping search engine
Click on "Total Price" to sort from lowest to highest price, inclusive of shipping.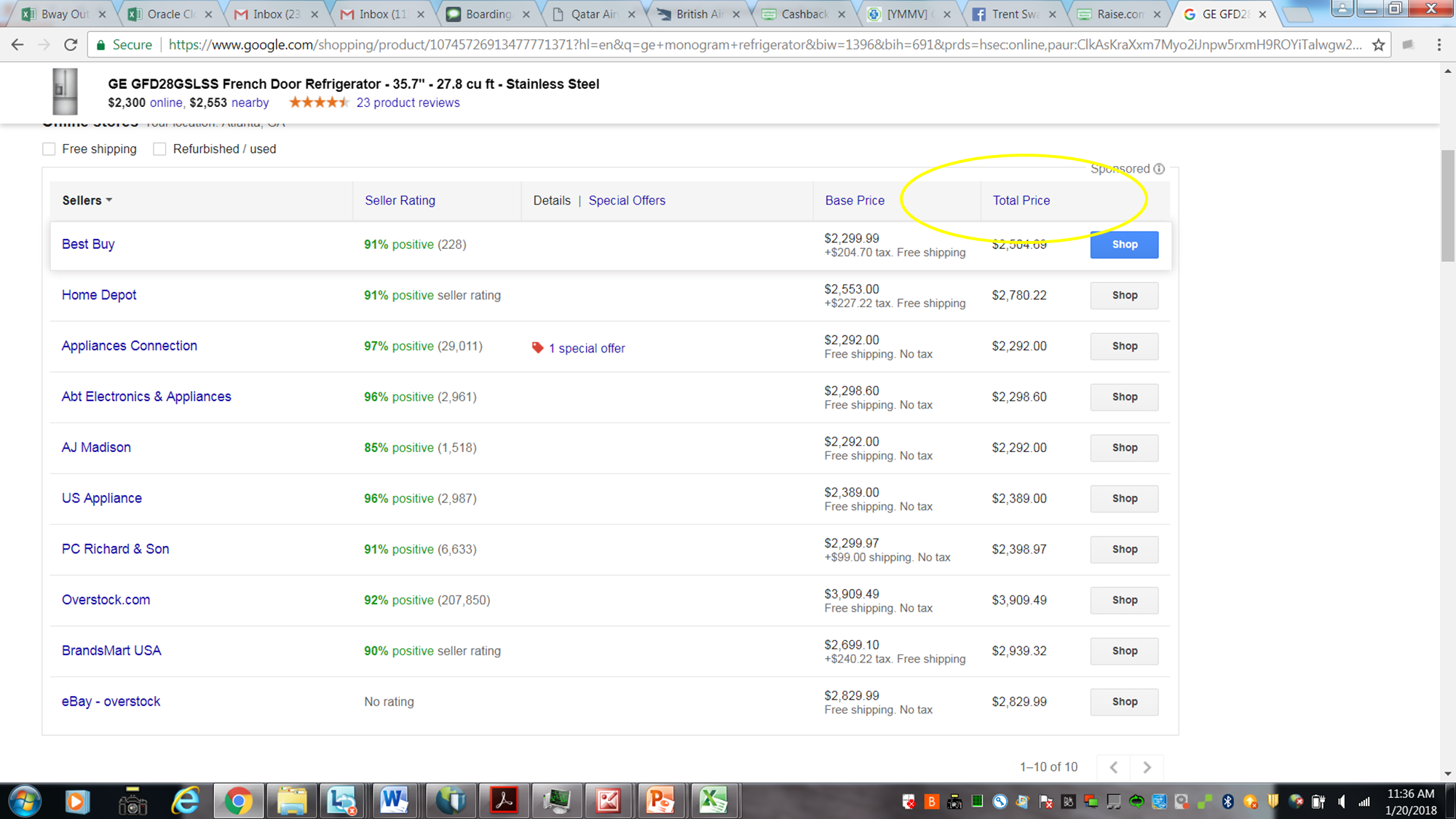 Take note of any merchant-specific special offers or coupons
Take note of the 3 lowest-priced merchants
Go to Cashbackmonitor.com and search for the lowest-priced merchant
Note the merchant's cash back and miles/points earnings rates
Search for the 2nd and 3rd least expensive merchants and note their respective earning rates
Select the "best" merchant from which you will make the purchase.  Appliances Connection (the least expensive of the options after applying the coupon) offers least lucrative cash back and travel/credit card miles earnings. My personal preference is to earn miles rather than cash back.  Miles stretch up to 10 times further than cash back when redeeming miles for premium international travel.  Those who exclusively travel domestic coach and have the discipline to save cash back earned to use for travel rather than on other expenditures may opt for cash back instead.
So which miles are better? "Credit Card Points" are typically worth more than "Travel Miles/Points" because the former transfer to multiple travel partners. "Credit Card Points portals increase your chances of finding available award inventory required to use your points. "Travel Miles Points" are restricted to the individual airline/hotel which can often reduce the value of these types of points due to their lack of transferability and other factors.  Keep in mind that in order to shop at "Credit Card Points" portals, you must be a card holder of that bank's respective credit card at the time of making the purchase through that portal.  Purchasing through "Travel Miles/Points" or "Cashback" portals do not require you to be a credit card holder.
Chase Ultimate Rewards are among the most valuable points you can earn via shopping portals. AJ Madison and Abt Electronics are both paying out at 2 Chase Ultimate Rewards points per dollar spent.  Since AJ Madison's price is $6.60 less than Abt Electronics, I would make my purchase at AJ Madison using a Chase Ultimate Rewards "Shop Through Chase" portal. Not including the points you'll earn using your credit card, this purchase will earn ~4,6oo Chase Ultimate Rewards points, worth ~$90 toward travel.
In Post 2, we'll explore how to make the purchase and which credit card to use for payment.
Meanwhile, what tricks have you learned and what deals have you scored using Google Shopping or Cashbackmonitor?